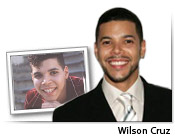 According to www.movieweb.com, Wilson Cruz has landed a role in New Line feature "He's Just Not That Into You", starring Drew Barrymore. The movie is scheduled for an August 2008 release.


Based on the best-selling book by Greg Behrendt and Liz Tuccillo.

The Baltimore-set movie of interconnecting story arcs deals with the challenges of reading or misreading human behavior. Jennifer Connelly plays a woman stuck in a tired marriage with Cooper's character. Kevin Connolly, meanwhile, is a man pining after a woman, still not cast, who is having an affair with Cooper.
9 replies