Merchandise
DVDs
"My So-Called Life" has been released five different times in various countries and editions.
US DVD Set, 2007 Edition (Shout! Factory)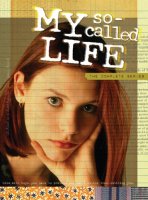 Shout! Factory will release all 19 episodes of "My So-Called Life" on DVD on October 30, 2007. This release will contain lots of bonus material like audio commentaries, tributes and a booklet. More details can be found in our DVD forum.

Bonus Disc
The bonus features are all collected on the sixth disc (except for the audio commentaries)

1. "My So-Called Life Story": Winnie Holzman, Marshall Herskovitz, Ed Zwick, Scott Winant and other show creatives tell the story of the show.
(about 25 minutes)

2. A Conversation With Claire Danes and Winnie Holzman: Claire and Winnie talk to each other about their shared experiences on the show.
(about 22 minutes)

3. A Conversation with Marshall Herskovitz and Winnie Holzman: Marshall and Winnie talk about and creative and production processes and their collaborations. (14 min.)

4-6 The Characters: These are three unique segments that include the cast members discussing their roles and their characters' and real-life relationships with each other.
Angela (16 min.)
The Family (16 min.)
The Friends (29 min)

7. An Interview With Claire Danes: A chat about Claire's real life as an actress. (8 min)

8. The Music: W.G. Snuffy Walden and Scott Winant talk about the music for the show. (15 min.)

9. Highlights of the 1995 Museum of Television and Radio (now known as The Paley Center For Media) Panel. (30 min.)

That makes a total runtime of about 175 minutes, plus a photo gallery.


Audio Commentaries

Disc 1
#01 - Pilot Episode: Marshall Herskovitz, Winnie Holzman, Scott Winant

Disc 3
#10 - Other People's Mothers: Bess Armstrong, Director Claudia Weill
#11 - Life Of Brian: Devon Gummersall, Director Todd Holland, Writer Jason Katims

Disc 4
#12 - Self-Esteem: Claire Danes, Winnie Holzman
#15 - So-Called Angels: (this has two separate commentary tracks)
1. Wilson Cruz, Winnie Holzman
2. Director Scott Winant

Disc 5
#18 - Weekend: Bess Armstrong, Lisa Wilhoit, Writer Adam Dooley


The DVD set also includes a 40-page color book, highlighted by a special introduction by show creator Winnie Holzman, special tributes by Janeane Garofalo and Joss Whedon.
Official press release:
THE CROWN JEWEL OF COMING-OF-AGE DRAMAS FINALLY HIT THE SHELVES THIS FALL!

My So-Called Life: The Complete Series
Starring Golden Globe®-winner Claire Danes as Angela Chase

For the First Time Ever, Audiences Can Experience the Whole Story of This Beloved Television Drama in a Six-DVD Collectible Box Set Packed with All 19 Addictive Episodes, A Special Commemorative Book and All-New Special Features

Available October 30, 2007 from Shout! Factory

LOS ANGELES, CALIFORNIA - Before anyone had heard of Rory Gilmore, Dawson Leery, Felicity Porter or Buffy Summers, America's most-beloved 15-year old high school sophomore was Angela Chase. Angela, her family and her group of friends were introduced with My So-Called Life, the highly celebrated TV series that launched the careers of Golden Globe®-winner Claire Danes, Jared Leto and Wilson Cruz. Impacting a generation, this triggered a revolution of teen-angst oriented dramas seen on today's prime-time television.

On October 30, 2007, Shout! Factory will release My So-Called Life: The Complete Series DVD, featuring all nineteen episodes and a full disc of hours of bonus features that illuminate the origin, life and afterlife of this Emmy®-nominated benchmark series with all-new interviews, episode commentaries and archival footage featuring the original cast and creators. Moreover, Shout! Factory invites viewers and fans to further immerse themselves in a 40-page color book, highlighted by a special introduction by show creator Winnie Holzman, special tributes by Janeane Garofalo and Joss Whedon, and much more! Poised to satisfy the appetite of My So-Called Life and Claire Danes fans for ritual viewing and priced to own at $69.99, this uncompromising six-disc DVD box set with a commemorative book are collected in a specially designed collector's box with a embossed, case-bound cover.

Hailed by critics and fans alike as the most groundbreaking television show of the 1990s, My So-Called Life not only launched a revolution of teen angst-oriented dramas on prime-time television, but also raised the bar for television shows about coming-of age and life's transitions. Unafraid to explore any subject, no matter how controversial, the series tackles topical issues such as sexuality, alcoholism, homelessness, school violence, adultery, homophobia, child abuse, censorship and drug use.

Created by Winnie Holzman (Wicked, thirtysomething) and executive produced by Marshall Herskovitz (thirtysomething, Once and Again, The Last Samurai) and Edward Zwick (Blood Diamond, I Am Sam, Traffic), My So-Called Life boasts a stellar cast including Claire Danes, Jared Leto, Wilson Cruz, A.J. Langer, Devon Gummersall, Devon Odessa, Bess Armstrong, Tom Irwin and Lisa Wilhoit. Whether you've memorized every line, or it's your very first time, My So-Called Life remains as fresh and honest today as when it premiered. My So Called Life premiered on ABC Thursday, August 25, 1994, from The Bedford Falls Company in association with ABC Productions, Inc.

IN-DEPTH DVD Special Features include

Featurettes with the cast and creators:
o "My So-Called Life Story" - The amazing story of the origins, life and afterlife of the series.
o 1995 Museum of Television and Radio Panel
o "A Conversation with Claire Danes and Winnie Holzman"
o "The Characters" - Exploring the backstories and relationships of the characters.
o An exclusive interview with Claire Danes
o Photo gallery
o "The Music" with composer Snuffy Waldren
o Deluxe book accompanies set and includes original art alongside full-color cast photos and liner notes from Winnie Holzman, Joss Whedon, Janeane Garofalo, and Michele Byers (author and co-editor of new book Dear Angela: Remembering My So-Called Life - due out this year).
Shout! Factory is a diversified entertainment company devoted to producing, uncovering and revitalizing the very best of pop culture. Founders Richard Foos, Bob Emmer and Garson Foos have spent their careers sharing their music, television and film faves with discerning consumers the world over. Shout! Factory's DVD offerings serve up classic, contemporary and cult TV series, riveting sports programs, live music, animation and documentaries in lavish packages crammed with extras. The company's audio catalogue boasts GRAMMY®-nominated boxed sets, new releases from storied artists, lovingly assembled album reissues and indispensable "best of" compilations. These riches are the result of a creative acquisitions mandate that has established the company as a hotbed of cultural preservation and commercial reinvention. Shout! Factory is based in Santa Monica, Calif. Its fine products are distributed by Sony BMG Music Entertainment Inc and Vivendi Visual Entertainment. For more on Shout! Factory, visit http://www.shoutfactory.com .

United Kingdom DVD Set, 2007 Edition (Universal Pictures)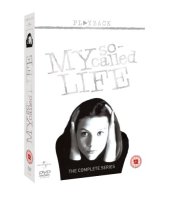 All episodes of "My So-Called Life" are available on DVD in the United Kingdom.

UK 2007 Edition Release Details

Release date: May 14, 2007
Format: PAL
Language: English (no subtitles)
Region: Region 2
Aspect Ratio: 1.33:1
Number of discs: 5
Classification: 12
Studio: Universal Pictures Video
Street price: Around £27.


There are no bonus features and no subtitles.
German "Willkommen im Leben" DVD Set (EuroVideo)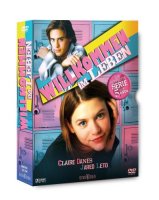 EuroVideo released a DVD box set with all 19 episodes of "My So-Called Life" in Germany. The set were available in stores beginning September 13, 2007 and contain the orginal english audio track as well as the german audio dub. More details (in german) on the EuroVideo homepage.
EuroVideo hat ein DVD-Boxset mit allen 19 Episoden von "My So-Called Life" / "Willkommen im Leben" in Deutschland veröffentlicht. Das DVD-Set, das seit 13. September 2007 im Handel erhältlich ist, enthält neben der deutschen Synchronfassung auch den englischen Originalton. Die fünf DVDs werden in einem Digistak mit Schuber verkauft. Informationen zum DVD-Set finden sich auch auf der Homepage von EuroVideo.
US DVD Set, 2000 Edition (BMG Video / AnotherUniverse)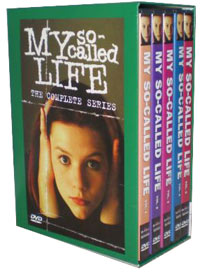 BMG / Ventura Distribution released all 19 episodes of My So-Called Life in a box set in October / November 2002. The set includes 5 DVDs, all Region 0 (even if amazon.com says "Region 1" - trust us, it is "Region 0").
It is sold out and not longer available in stores.
BMG Video went bankrupt in 1999 after releasing 12 episodes of "My So-Called Life" on NTSC VHS video cassettes. Those tapes were quickly sold out, but the remaining 7 episodes never got released.

One year later in June 2000, another BMG subdivision (BMG Special Products) released the first three episodes of 'My So-Called Life' on DVD. But the sale figures of the first DVD weren't very good, so the "Powers that Be" at BMG hesitated again to release the remaining episodes on DVD.

For more than 20 months, thousands of fans worldwide were then fighting for a complete DVD collection of all 19 My So-Called Life Episodes - not just a "best of". In October 2000, MSCL.COM launched a petition to show BMG how big the demand from the fans was. When we closed the petition in August 2001, 4700 fans had signed the petition. Even members of the original MSCL cast from 1994 supported the petition.

With support from former BMG employee Jason Rosenfeld, we tried to convince BMG to release all episodes MSCL on DVD. A so-called pre-pre-order list was created in August 2001 and again, more than 4200 fans supported our efforts by subscribing to this list. But BMG hesitated.

In early 2002, thanks to the ongoing efforts of Jason Rosenfeld, a new distributer for the DVD box was found and they negotiated with BMG to make a limited edition DVD box set available to the fans. In November 2002, the box sets were available at many retailers for around $50-$70 until around early 2003. Then most retailers went out of stock and over the following years, the DVD sets were sold for up to $300 on internet auction sites.

This is probably the first time in TV history that a group of fans has managed to have a show put out on DVD. MSCL.COM thanks all fans who participated over the past 12 years in all those fan movements.

US Single DVD, 1999 Edition (BMG Video)


In 1999, the now defunct
BMG Special Products division
published a single "My So-Called Life #1" DVD including:
Episode 1 - "The Pilot"
Episode 2 - "Dancing In The Dark"
Episode 3 - "Guns and Gossip"
The disc is
SOLD OUT
and no longer available in stores!
Remastered in Dolby Digital 5.1 surround sound
List price: $14.99
Technical details:
Item Code: BMG45714DVD - Not Rated

UPC Code: 755174571497 - 135 min. - 1994

Preorder: 6/6/2000 - BMG

Street: 6/20/2000 - Drama,TV Classics

Full Frame - Color - English - 5.1 Dolby Digital Sound

The DVDs are confirmed REGION FREE! (Region 0) (Don't care about what amazon.com says!)

Video: Standard 1.33:1 [4:3], Full Frame

No Subtitles

Length: 135 min.

Packaging: Keep Case

Disc: SS-SL (Single-Layer (DVD-5))