The Official "My So-Called Life" Soundtrack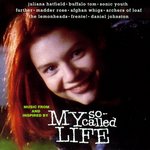 The official "My So-Called Life" soundtrack was released on 01/24/1995 on CD and cassette. The Atlantic Records Group struck the deal very early in the production process of the series, back in August 1994, weeks before the show's debut on ABC. The agreement was an unusually early leap-of-faith; deal points were hammered out based solely on the pilot episode -- at that time bereft of launch date, timeslot and network commitment beyond eight episodes.
The soundtrack was eventually released just one day before the the final episode aired on ABC in January 1995.
Tracklist:
(Side A)
1 Juliana Hatfield: "Make It Home" (episode 15, sung by the so-called angel)
2 Buffalo Tom: "Soda Jerk" (episode 12, live in Pikestreet and episode 8, Sharon and Kyle in the hall)
3 Sonic Youth: "Genetic" (episode 17, Rayanne and Jordan at Louie's)
4 Further: "Petty Core" (only on the soundtrack)
5 Madder Rose: "Drop A Bomb" (episode 10, Rayanne doing drugs in the bathroom at her party)
(Side B)
6 Afghan Wigs "Fountain and Fairfax" (episode 12, Vertigo Club)
7 Archers of Loaf "South Carolina" (episode 11, Jordan's car radio)
8 The Lemonheads "Dawn Can't Decide" (episode 11, first song at the dance)
9 Frente! "The Book Song" (episode 18, In Angela's Bedroom)
10 Daniel Johnston "Come See Me Tonight" (only on the soundtrack)
11 W.G.Snuffy Walden "My So-Called Life Theme" (1 minute version)

Label: Atlantic
Catalog Number: 82721
Distributor: WEA

Soundtrack Executive Producer: Andrew Leary
Soundtrack Supervision Producer: Monica Wyatt

As expected for such an old release, the soundtrack has been out of print for many years now. Used copies prices vary between $2 and $40.