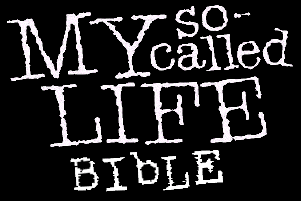 The My So-Called Life Bible
(a hitchhiker's guide to the series)

Version 5.4: October, 1998

Contrived 1994 - Virany Margaret Kreng

In conjunction with the MSCL Mailing List.

Updated and maintained, suggestions, flames: Andi Wolf Dolphin.

Copyright © 1996-1998 Andi Wolf Dolphin - Dolphin FX
(Which means if you use this illegally, I own your car and your firstborn -- not to mention all of your food!!!)
NOTE: This is a continual work in progress and is updated at least monthly. Versions earlier than 2.7 were compiled by Virany. I try to keep this as up-to-date as I can, and if you see something that I have missed, constructive criticism or feedback, something like that, well, just drop me some mail and I'll look into it. Thank you for taking the time to read this! (yeah, whatever)
NOTE #2: If you're printing this out or you have a text version of this, some sections need a mono-spaced font. If parts look a bit skewed, try switching to one of those non-proportional, "mono-spaced" fonts, like Courier or Monaco.
---
*. THE SO-CALLED NECESSITIES
Naturally, there is going to be a HUGE amount of information available online. A few of the first web pages will be listed here, and a more complete list complied in a later section. Important MSCL resources to know:
-The new My-So-Called Life homepage:
- MSCL Internet Mailing List:
There's a big internet mailing list out there that has been around since October, 1994. Information on how to join can be found here.
---
*Now available! MSCL on video!
---
0. THE SO-CALLED CONTENTS
Last updated: 0000z 19.October.1998
---