Clothing
All items on this page are out of stock and no longer available!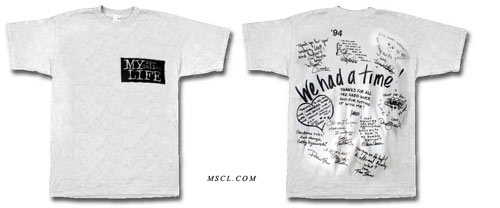 This T-Shirt was printed in December 1994 for the My So-Called Life wrap-up party after the last episode was finished shooting. Cast and crew subscribed on a piece of paper which was then printed on exactly 100 shirts. Only close friends of the cast or crew got one. Click on the picture for a larger version.
Here's what it says on the back:
'94 We had a time!
Thank you for your undying LOVE and support! con mucho amor Wilson Cruz
...We will look back on this and know we were all a part of something very special [heart symbol] A.J. Langer Rayanne
It's been wonderful working with you!!! Love Lisa Wihoit
[big heart] Thanks to all you like wonderful people who like really make it like totally..."Happen" XOXOXOXO Odie AKA Girl Devon
Thanks for all the hard work and for putting up with me Jared
Thank you for a wonderful "Life" Love Devon Gummersall
Ok-so I'll call Marshall... I love you all Bess Armstrong
I cant express my love and appreciation we're quite a team "in my humble opinion" [heart] Claire Danes
Guidance rules! love always Cathy Kryzanoski
I love you all Mary Kay Place
You guys are the best! He affirmed firmly...what? love Tom Irwin
Danton Stone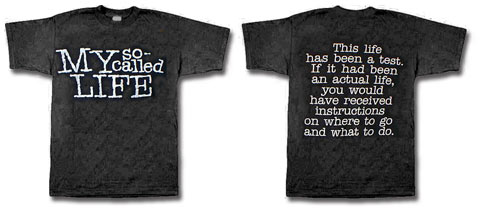 Two versions of this shirt have been available: One version with white background and black lettering and one with black background and white lettering. Someone on one of the MSCL Usenet Groups made them back in 1995. We don't know how many shirts were produced.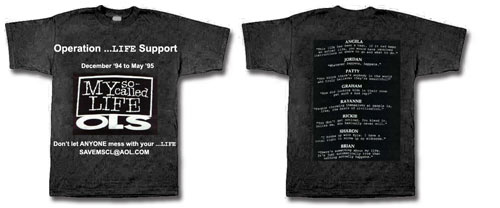 This shirt was published by Operation Life Support in early 1995. It was also available as a sweat-shirt.
The front: "Operation ...LIFE Support / Don't let ANYONE mess with your LIFE"
On the back are selected quotes from each of the MSCL characters. To name a few:

Angela Chase
"This life has been a test. If it had been an actual life, you would
have received actual instructions on where to go and what to do."

Jordan Catalano
"Whatever happens, happens."

Danielle Chase
"My life is completely edited."

It was sold by OLS for around $20 in January 1995.
Caps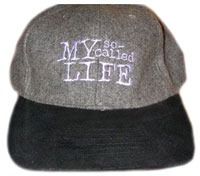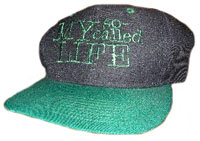 Several caps with the "My So-Called Life" logo were available from different sources in 1994 and 1995. Some of these caps were given out to cast and crew members, some were fan-made.