MSCL.com - My So-Called Life - A Tribute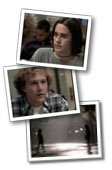 MSCL.com is the world's largest, most-visited tribute web site devoted to "My So-Called Life," the acclaimed drama that aired in 1994/95. Although just 19 episodes were produced, the show continues to live on in the hearts, minds, and memories of millions worldwide. On this site you will discover rich profiles about the cast/crew; episode guides, news and updates, reviews and analysis, fanfiction, timelines, photos and much else, including a vibrant forum devoted to all things "My So-Called Life."

Episodes · Cast · Crew · DVDs · Forum · Fanfiction · more...
Latest news

Featured News

The complete pilot episode of "My So-Called Life" is now available as a free web stream over at www.abc.com.

More...

On October 30, 2007, Shout! Factory will release My So-Called Life: The Complete Series DVD, featuring all nineteen episodes and a full disc of hours of bonus features that illuminate the origin, life and afterlife of this Emmy®-nominated benchmark series with all-new interviews, episode commentaries and archival footage featuring the original cast and creators. Moreover, Shout! Factory invites viewers and fans to further immerse themselves in a 40-page color book, highlighted by a special introduction by show creator Winnie Holzman, special tributes by Janeane Garofalo and Joss Whedon, and much more! Poised to satisfy the appetite of My So-Called Life and Claire Danes fans for ritual viewing and priced to own at $69.99, this uncompromising six-disc DVD box set with a commemorative book are collected in a specially designed collector's box with a embossed, case-bound cover.

More...
August 23, 2019

"My So-Called Life" premiered 25 years ago on ABC.

More...

September 09, 2014

"My So-Called Life" creator Winnie Holzman talks about what would have happened in an interview with Vulture: http://www.vulture.com/2014/09/winnie-holzman-my-so-called-life-finale-chat.html

More...

August 25, 2014

August 25, 1994 -- Bill Clinton was President, the Internet was still in its infancy and ABC aired the pilot episode of a new tv show: "My So-Called Life" premiered exactly 20 years ago with 14-year old Claire Danes as its main star. So much time has passed, but the show still resonates with viewers all over the world.

More...

May 17, 2013

Winnie Holzman, Wilson Cruz, Devon Odessa, A.J. Langer, Bess Armstrong and Devon Gummersall reunite at the second annual ATX Television Festival in June.

More...

January 16, 2012

Claire Danes wins Golden Globe for actress in a TV series - drama

More...

April 17, 2011

Sundance Channel has acquired rerun rights to 90s cult hit My So-Called Life

More...

April 13, 2011

It's official: Showtime has picked up "Homeland", the new drama starring Claire Danes and Mandy Patinkin. Production begins this summer.

More...

November 19, 2010

Nellie Andreeva over at deadline.com reports that Claire Danes will star as the lead of a new Showtime drama show titled "Homeland". It is described as a psychological thriller from former "24" executive producer/showrunner Howard Gordon about a female CIA case officer (Claire Danes) who tracks down threats to homeland security coming from the Middle East. More details at deadline.com.

More...

April 26, 2010

ABC Family ordered 10 episodes of "Huge", scheduled to premiere on June 28. Winnie Holzman will be Executive Producer on the pilot episode.

More...

February 25, 2010

Claire Danes and Jared Leto were photographed together for the first time since 1995 at the Elle Fashion Awards in London!

More...