Most of these items were only available in very limited editons.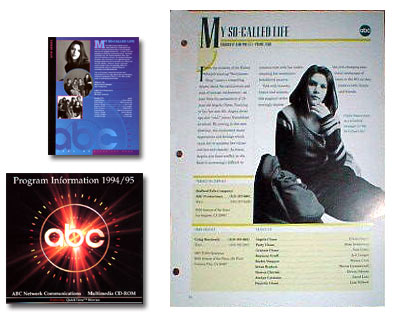 This stuff is mostly press material. The ABC multimedia CD-ROM (left, bottom) contains an early Quicktime-Trailer for the show and an interview with Claire Danes. The other items are (excerpts from) press folders with short show descriptions and pictures.


More stuff:
Pillow - Somebody actually made a "My So-Called Life" pillow. Unfortunately, we don't have a picture of it and we don't know who made it. But it has the "My So-Called Life" logo on it in white and a darker blue and "SAVE" in big letters in red. The pillow measures 18" by 21".
Shooting Scripts - Copies of the Shooting Scripts were available at ebay.com, but have been removed due to copyright issues.
Emmy consideration tape - VHS tapes with two episodes for the Emmy jury in 1995 appeared one day on ebay.

"Operation Life Support" stuff - OLS released in 1994 all episodes on VHS, but in bad quality. They also bought an ad in "Variety" and other magazines in January 1995. The long-planned book about "My So-Called Life" got never printed due to copyright issues.