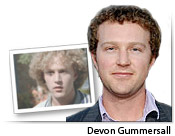 Devon Gummersall has reunited with Ed Zwick and Marshall Herskovitz: He's writing episodes for the new webseries "Quarterlife".
From the National Ledger:
ON THE 'NET: "State of Mind" regular Devon Gummersall reports he's been juggling shooting of his Lifetime series with "Quarterlife," the new upcoming Internet series from Ed Zwick and Marshall Herskovitz. But he won't be on camera for the latter project. "I'm working as a writer," says Gummersall, who directed and wrote the indie film "Robbing 'Hef." "Quarterlife" follows a group of "25-year-olds in that awkward stage between college and adult life when you're just out of college and thrust into the real world and have to figure out who you are. It'll start airing in the fall in 10-minute webisodes." He adds, "It's going to be a first-class project, shot pretty much in the typical sophisticated Zwick/Herskovitz way, with high production values the same as if it was for TV or a movie, but it'll air on the Internet. It's exciting to explore the possibilities of the Internet because a lot of it is still uncharted territory."

The actor, who plays wet-behind-the-ears attorney Barry White on "State of Mind," says the troupe is more than halfway through its order of eight episodes.
http://www.nationalledger.com/artman/publish/article_272615389.shtml
discuss in our forum
|
Read the original news item at news.mscl.com