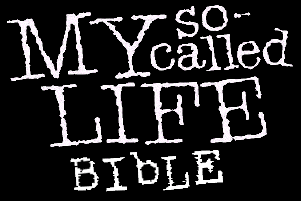 The So-Called Trivia
Miscellaneous questions and answers session follows...
1. What possible "in-jokes" have the MSCL crew used on the show?
The two names frequently listed as assistants to the co-exec producers are Jenifer Catalano and Diane Driscoll. Two characters have shared last names with them: Jordan Catalano and Nicky Driscoll (dead kid from "Halloween"). Similarly, Mr. Katimski's name could be a play on story editor Jason Katims' name.
One of the recurring "in-jokes" can be found in most of the Bathroom Scenes. If you look closely at the graffiti, you might see among the various scrawl, "A.J. + Chris" in any of various forms, including "A.J.L. + C.F.S." [1.3] which leaves little doubt that this is some reference to A.J. and some real-life honey of hers. (See episodes 3, 5, 6, 8, and 10.)
In "The Zit", Brooke Kennedy is listed on the Sophomore hot sheet as having the best laugh. Brooke Kennedy is one of the show's producers.
Nepotism or coincidence?

In "Strangers in the House" the doctor is played by Bruce Winant, who may or may not be related to co-executive producer Scott Winant.
The sergeant in "So-Called Angels" was played by Bob Katims, possibly a relation to story editor and episode co-writer Jason Katims?
And of course, Chuck is played by character actor Paul Dooley, who is married to creator Winnie Holzman.
Shannon Leto (he plays "Shane" -- the guy that carries the drumsticks most of the time) is the older brother of Jared Leto.
Devon Gummersall's older brother, Josh, plays "Tough Guy" and can be seen wearing sunglasses and a leather jacket when Brian is videotaping at he club, and can be seen wearing the same thing in "Relativity", which Devon was one of the weekly characters.

In "Self-Esteem", look carefully at the names on the Drama Club signup sheet when Enrique signs it. Two of the names above his are Nancy Jacobs (first assistant director) and Diane Kelly (Diane Durant-Kelley is the script supervisor). [Who are Ron Ripplemeyer and June Rogers?!]
2. Who would make a good Tino?
This was a recent discussion on the MSCL list. Names bandied about as possible Tinos included: young Gary Oldman, young Henry Rollins, the late great River Phoenix, Stephen Dorff, Ethan Hawke, and that Reservoir Dog, Quentin Tarantino.
3. What literary references have been used?
The following works have been referred to, quoted, or featured:
1.1 - The Diary of Anne Frank (Anne Frank)
1.5 - The Metamorphosis (Franz Kafka)
1.6 - Of Mice and Men (John Steinbeck)
1.7 - The Autobiography of Malcolm X (Malcolm X)
1.7 - The Change: Women, Aging, and the Menopause (Germaine Greer)
1.12 - Sonnet 130 (William Shakespeare)
1.12 - As You Like It (William Shakespeare)
1.14 - Cat's Cradle (Kurt Vonnegut)
1.16 - The Odyssey (Homer)
1.17 - Our Town (Thornton Wilder)
1.19 - Cyrano de Bergerac (Edmond \) *indirect allusion*
4. What's all this talk about cats, basements, and sweaters?
At least two episodes have made reference to a Chase family cat... but we have yet to see said feline. Dennis suggested the cat is off somewhere hanging with Tino and Brian's parents.
In "The Substitute," Patty and Graham wonder if Angela could have possibly written the (in)famous "Haiku For Him" poem. Patty dismisses the idea, saying, "We don't even have a basement." Fast forward to "Life of Brian," and the opening scenes in the Chase home, where Graham goes searching for wallpaper. Says Patty, "I can't do braids in a basement."
There appears to be a glitch in the editing of "Self-Esteem"; watch Angela's clothes carefully in the scene after Jordan tells her to keep their meetings a secret. She goes from wearing one sweater to another top. Peculiar.
---