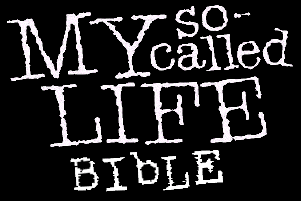 The So-Called Fans
Response to the pilot and subsequent episodes of MSCL has generally been enthusiastic -- perhaps not evident in the ratings, but apparent in the rec.arts.tv discussions of the show and the loyalty of its supporters.
To this end, not one, but two mailing lists can be found for discussion of MSCL:
The My So-Called Life mailing lists.
There are two current MSCL Mailing Lists out there.
There is a mailing list on the internet which chats about MSCL, along with some related topics. There are usually between 200 and 300 member which cover topics ranging from extremely detailed analysis of every single second of MSCL and things referred to during the series, sometimes talking about what the characters would be doing in 10 years or so. Sometimes we talk about something totally unrelated.

It's very easy to sign up for this mailing list. To subscribe, send a blank e-mail message to so-called-on@mail-list.com.

To subscribe to the digest, write to so-called-on-d@mail-list.com.

The Dreamworld server has a mailing list for MSCL with some of the same people from the mail-list mailing list. (Don't ask -- it's a long story).

To subscribe to the Dreamworld MSCL Mailing List, send a message to robot@dreamworld.org and in the body of the message write: "subscribe so-called". That's it, that's all.
You'll be signed up within a short time. Just a small disclaimer: there are typically 50-100 messages a day. We are a *VERY* active group, ranging in age from early early teens to somewhere in the 50s or so (i think).
The thirtysomething mailing list.
Maintained by Janet Cook Sakell <jcs@holmes.acc.virginia.edu> Originally created for discussion of Zwick & Herskovitz's last project, the critically acclaimed "thirtysomething." Send a message to <30something-request@virginia.edu> with the command "subscribe" in the subject line to be added to this list.
Angela's World was originally going to be a book from OLS that gave information about the show and things that went on behind-the-scenes, insight, episode guides and trivia...basically anything you could want to know. Check it out, put prepare for some heavy reading.
An ftp site for MSCL, which has lotsa good stuff, including texts, pictures, and list digests, can be found at http://www.best.com/~wilson/mscl/
An organization called OPERATION LIFE SUPPORT was created by fans Steve Joyner and Robyn Landis. As the name implies, this is a group that was founded with the goal of getting the attention of ABC and proving to them that MSCL does have viewers. OLS tried very hard to make the public aware of the situation that MSCL was in. OLS has since disbanded, but while it was in existence, OLS was able to promote MSCL both online and in the media. To fund their efforts, OLS offered premiums in exchange for monetary support. Offers included copies of MSCL on video, bumper stickers, mugs, baseball caps, buttons, and a book which told the story behind MSCL and everything it meant to so many people (which is still in the editing process, so don't mail me asking for it).
And speaking of books, there does happen to be a book about MSCL. Written by Catherine Clark in 1995, "My So-Called Life" can be found in the Young Adult sections of some bookstores. "My So-Called Life" is not a continuation of the series, but kind of a summary of all of the episodes, with some cast information at the end. It does not contain actual scripts from the show, but you'll recognize a lot of it. Check it out at Amazon Books.
---