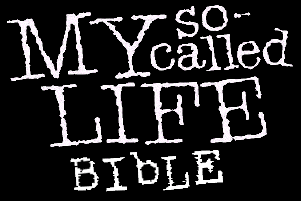 The So-Called Players
(Adapted from information available on the Internet (duh squared!), and from a press kit provided by ABC Productions, as well as a few other secret sources. And please note, this page is updated most frequently as new roles are landed.)
Youngest of two children, born in New York to her painter/teacher mother and computer consultant father. Started studying modern dance at age six, and still studies it; at nine took acting class at Lee Strasberg Studio; attended Professional Performing Arts School in New York in sixth and seventh grade. Likes gymnastics, humanities, science, and more recently, surfing (when she's like, hanging out in LA). Has an older brother, Asa. For a while dated Andrew Dorff, a musician and brother of actor Stephen Dorff. Also dated for a bit Matt Damon, an actor -- met on the set of "The Rainmaker". Currently dating Australian musician Ben Lee.

Won Golden Globe-Best Actress/Drama for her role in MSCL. Received Young Star Award for Best Performance in a TV Drama Series for MSCL (1995). First annual award sponsored by THE HOLLYWOOD REPORTER. Also received the ShoWest Female Star of Tomorrow Award (1997), presented by the National Association of Theatre Owners. Also in 1997, she was voted by People Magazine as one of the 50 most beautiful people in the world.

Currently is attending Yale University.

Even more on Claire...and the So-Called Claire page.
Credits:
Stage appearances in: "Happiness"; "Punk Ballet"; "Kids on Stage."
TV appearances as a guest star in "Law and Order"; "No Room For Opal"; "The Coming Out of Heidi Leiter"; hosted "Saturday Night Live" in the Spring of 1998.
Music Video appearance: Soul Asylum "Just Like Anyone".
Small film appearances: Dreams of Love; Thirty (short film); The Pesky Suitor (film festival short).
Major film appearances: Little Women; How to Make an American Quilt based on the Whitney Otto bestseller; Home for the Holidays; To Gillian on her 37th Birthday; slightly notably in Romeo + Juliet; U-Turn (aka Stray Dogs); I Love You, I Love You Not (previously released in a few European countries -- released in New York/Los Angeles 31 October, 1997; video released in US on 11 August, 1998); The Rainmaker.
Hosted Saturday Night Live on 15 November, 1997, but there was no MSCL sketch.
Has been a guest on such big name talk shows as Late Show with David Letterman (her fifth time on Tuesday, 21 April, 1998); the The Tonight Show; and Rosie O'Donnell.
Upcoming releases/Currently filming: Brokedown Palace (I'm not calling it Two Girls) (currently filming in the Philippines and Thailand) (release date said to be December, 1998 in the USA); Polish Wedding (debut at the Sundance Film Festival on 16 January; general release in US 17 July, 1998); Les Misérables; Monterey Pop (status unknown at this time). Claire has also just signed on for Mod Squad, a movie version of the TV show.
Birthday: 12 April, 1979.

BESS ARMSTRONG
| | |
| --- | --- |
| | A popular film and TV actress. Married (to film producer John Fiedler) with children (two sons, ages 6 and 2-1/2). Born in Baltimore Maryland, middle of five children; parents were both teachers. Attended Bryn Mawr School for Girls for 14 years; graduated from Brown University with a double degree in theater arts and the classics. |
Credits:
Stage appearances include Jules Feiffer's "Knock, Knock."
Some TV appearances: series "On Our Own"; "All is Forgiven"; "Married People"; "Take Me Home Again"; "Tales from the Crypt" and"Stolen Innocence".
Some TV Miniseries "Lace" and "Mixed Blessings"
Some TV movie "Christmas Every Day" and "She Stood Alone: The Tailhook Scandal"
Some film appearances: The Four Seasons; Nothing in Common; The High Road to China; Jaws 3-D; Dream Lover; The Skateboard Kid; Mother, Mother; Second Sight; Nothing In Common, That Darn Cat, Pecker.
Birthday: 11 December, 1953.
TOM IRWIN
| | |
| --- | --- |
| | A native Illinoisan, born in Peoria. Attended Illinois State University. Joined Chicago's famed Steppenwolf Theatre Company. Continues to act in and direct plays for the company. Lives in Chicago and L.A., with two cats, Michael Jordan and Frances Glass. Avid basketball fan of the Chicago Bulls and the less successful Los Angeles Clippers. |
Credits:
Stage appearances (there are lots) include: Steppenwolf productions of "The Grapes of Wrath" as the narrator/ragman; "Love Letters" with Laurie Metcalf; "Cat on a Hot Tin Roof;" "Frank's Wild Years;" and "My Thing of Love."
Some TV appearances include the starring role in ABC's critically acclaimed but short-lived series "My Life and Times." Some television films include: "In the Best Interest of the Child"; "To My Daughter".
Some major film appearances include: Mr. Jones; Deceived; Midnight Run; Light of Day; Men Don't Leave.
Just wrapped up the play SPACE/ in Chicago at the Steppenwolf Theatre. He'll be coming back there soon.
Birthday: 1 June.
JARED LETO
Born in Bossier City, LA. First job at 12 as a dishwasher; at sixteen he became a doorman. Enrolled at University of the Arts in Philadelphia to study painting; transferred to the School of Visual Arts in New York to study filmmaking; in March 1992 moved to L.A. to pursue acting and still lives there. Has a dog (wolf/husky mix) named Judas. And yes, I did meet him (haahaahahahaaaahahhahahahhahahaaaaaaaa!!!!!!!).

(1997) Chosen by "People" magazine as one of the 50 Most Beautiful People in the World.

Brother Shannon Leto pops up in a few episodes of MSCL, as well as in the movie Prefontaine.
Credits:
TV appearances include: "The Torkelsons"; "Camp Wilder." Also, a starring role in Showtime's "The Cool and the Crazy" directed by Ralph Bakshi.
Directed and starred in a film entitled Crying Joy while in film school.
Film appearances include: How to Make an American Quilt; The Last of the High Kings (released in Demark, Ireland and the UK in 1996 -- select US release 10 April, 1998, released on video as Summer Fling); Prefontaine; Switchback (aka Going West in America).
Upcoming releases: Basil (released on video 9 June, 1998 in Iceland).
Has signed to Urban Legend (currently being filmed); The Thin Red Line (currently in post-production); Fight Club (filming began on 8 June, 1998); American Psycho.
Birthday: 26 December, 1971.
A.J. LANGER
| | |
| --- | --- |
| | A native Ohioan who moved to L.A. at five. A.J. stands for Allison Joy; the nickname comes from being the only girl in little league. An algebra teacher suggested acting after A.J. was elected student-body president in 9th grade. Likes reading the sports section, hiking, camping and fishing. Also creates one-of-a-kind necklaces, picture frames, and decorative pieces as gifts. Lives in the San Fernando Valley of CA. |
Credits:
TV appearances: "Drexell's Class"; "The Wonder Years;" "In the Heat of the Night"; "Blossom"; "Baywatch"; "Parker Lewis Can't Lose"; "90210"; "Coach"; "Touched by an Angel"; "Fame LA"; "Seinfeld"; currently can be seen on CBS's "Brooklyn South".
TV movie "Love Can Build a Bridge".
Film appearances: The People Under the Stairs; You Thought Your Parents Were Weird; The Killing Box; Escape From LA; Meet The Deedles.
Birthday: 22 May, 1972.
WILSON CRUZ
| | |
| --- | --- |
| | New Yorker who moved to San Bernardino, CA with his Puerto Rican family when he was 10. Eldest of three brothers. Sang and toured with Young Americans. Featured in shows at Disneyland, Disney World, and Sea World/Orlando. Graduated from Eisenhower High School and pursued a double major in English and theater before joining MSCL. Plays saxophone and collects vintage photos of actors. Openly homosexual and proud of it. |
Credits:
Stage appearances include "Cradle of Fire," "Supporting Cast," and a number of Shakespearean productions. Was in the LA production of "Rent!" from August-October, 1997. Currently can be seen playing "Angel" in the NYC production of "Rent!".
TV appearances: "Great Scott!"; "On Seventh Avenue"; "Sister, Sister"; "Ally McBeal".
Movie appearances: Nixon; Joyride; Johns; All Over Me. Has been signed for Supernova which began filming in April, 1998.
Birthday: 27 December, 1973.
DEVON ODESSA
| | |
| --- | --- |
| | A native West Virginian brought up on a farm. Moved to New Orleans, then to Los Angeles. Graduated from Notre Dame High School (Sherman Oaks, CA). Likes dancing, horseback riding, tennis, rollerblading, and cooking. Has three dogs and two cats. Splits her time between her home in Parkersburg WV, and the San Fernando Valley of CA. |
Credits:
Stage appearances include "Cat on a Hot Tin Roof" and "The Hobbit."
TV appearances include: "Small Wonder"; "Angel Falls"; "The Wonder Years"; "Full House;" "Step By Step;" "The Facts of Life"; "Extreme Close-Up"; "Pacific Blue"; "Good Morning, Miss Blue".
Movie appearances include: Pumpkinhead; Campfire Tales; No Small Ways; Nowhere.
Birthday: 18 January, 1974.
DEVON GUMMERSALL
| | |
| --- | --- |
| | Born in Colorado, middle son of three boys. Father is artist C. Gregory Gummersall. Moved to Los Angeles area. Did commercials at 10. Likes poetry, literature, J.D. Salinger, and sports. Has a German shepherd named Nick and a cat named Feisty. |
Credits:
TV appearances include: "Dr. Quinn, Medicine Woman"; "Step By Step;" "Dream On"; "Blossom"; "Relativity"; "When Trupets Fade"; reports say that he'll be appearing in "Felicity" as a regular.
Film appearances: My Girl II; Beethoven's 2nd; Independence Day. Upcoming in Lured Innocenence, which supposily has wrapped. Has signed onto Do Me A Favor (released on video in the US as Trading Favors.
Birthday: 15 October, 1978.
LISA WILHOIT
| | |
| --- | --- |
| | Native Los Angelena. Third generation of a show-biz family. Grandfather scored TV music, father is a sound effects editor, and her cousins are the twin boys on "Full House." At five, trained in gymnastics; at ten, did stunt work on "Hook." An honors student and Girl Scout. Takes dance classes, and likes bowling, ice skating, Thai food, and UB40. Owns collections of frogs, music boxes, seashells, nutcrackers. Lives in San Fernando Valley with three cats, a bird, and lotsa frogs. |
Credits:
TV appearance in "Talking with T.J."; "Walker, Texas Ranger". A weekly character in UPNs "Social Studies" playing Madison Lewis. Also in "The Tom Show" (Tom Arnold) as Kenlon (Fall, 1997).
Film debut as Baby Tinkerbell in Hook. Voice-overs in films such as: When a Man Loves a Woman; Fearless; Home Alone 2; and Searching for Bobby Fisher. Also in Honey We Shrunk Ourselves; Live Nude Girls.
Birthday: 30 July, 1981.
WINNIE HOLZMAN
Born in New York City, raised in Long Island. Graduated from Princeton University with a major in English and a concentration in creative writing. Won many poetry awards, including the Academy of American Poets Prize. Studied acting at The Circle in The Square Theatre School; joined the N.Y.U. Musical Theatre Program. Joined the "thirtysomething" writing staff in 1989, writing 9 episodes during her 2 seasons. Married to actor Paul Dooley (Chuck Wood!); they have an 8-year-old daughter named Savannah, and live in the San Fernando Valley. Nominated in 1995 for an Emmy for "Outstanding Individual Achievement in Writing for a Drama Series ("My So-Called Life")".
Credits:
Stage writing credits include "Serious Bizness," and "Birds of Paradise."
TV credits as story editor and writer for "thirtysomething." Guest-role as Ms. Krzyzanowski in that wacky show "My So-Called Life."
Movie: had a part in Jerry Maguire.
Wrote the screenplay for 'Til There Was You.
---