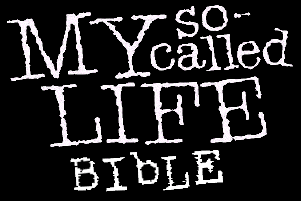 The So-Called History
In the beginning, there was the show, and the show was "My So-Called Life."

On Thursday, 25 August, 1994, "My So-Called Life" (MSCL) debuted after more than a year of languishing in programming limbo at ABC.

The first show of the new fall season to air, MSCL's debut had been a long-anticipated event. The pilot for the show was shot in January of 1993, and shown to The Powers That Be in April. The buzz was good: here, at last, was a thoughtful drama told from the perspective of a 15-year-old girl. Produced by Marshall Herskovitz and Ed Zwick, the creative team that helmed the successful "thirtysomething" series, MSCL looked as if it would generate the same praise and adulation its predecessor had. ABC's usually unflappable programmers reportedly flipped for the pilot. Ted Harbert, president of ABC's Entertainment division, said, "Not since 'Moonlighting' has there been a show that when the rough cut comes in, the place stops."

In early May of 1993, the call from up above came down: ABC had reserved 6 slots for hour long series in its fall lineup, and MSCL would not be one of them.

Their show hadn't made the first cut, but there was a chance that it could be brought in as a mid-season replacement. ABC's option on the show would run out in December. Zwick and Herskovitz spent the Summer of 1993 waiting for further word. Finally, on 7 October, 1993, ABC green-lighted 7 more episodes. But production couldn't resume until January of 1994, so there was little chance of MSCL airing any time before March.
If the in-house buzz was good before, it was even better now. On 24 October, 1993, The New York Times featured an article on the show and ABC programmers' indecision over the MSCL time slot. By February of 1994, the word around town was that MSCL would be The Drama To Watch. Newsweek gave it a thumbs up, deeming Herskovitz and Zwick "the best (and brightest) the medium has. [...] They try to make TV forget its only teevee." When Rolling Stone came out with its Hot Issue, MSCL merited a mention as Hot TV Show: "[W]e wait for the inevitable moralizing conclusion -- or at least a public-service announcement. But it never comes." All this before the pilot had even aired.
So, why didn't MSCL make it anywhere into the 1993-1994 season? The problem, according to Harbert, was that programmers couldn't figure out the right spot for the show. The traditionally family-oriented 8 p.m. time slot would draw younger viewers, but ABC felt the show might be too sophisticated, provocative, and "agonizingly honest" for that audience. On the other hand, at 10 p.m. the show might capture the adult audience, who could relate to the ordeal of the Chase parents, but that would mean sacrificing most of the potential younger viewing audience. The logical compromise would be a 9 p.m. assignment, but ABC was completely booked at 9:00 -- except for Thursdays. Programmers nixed trying that slot, which would have pitted the newbie MSCL against the NBC blockbuster "Seinfeld."
Instead, they gave MSCL the only spot they could come up with: sitting on a shelf, waiting in the wings for its own spot in the '94-'95 fall season. Rather than giving it a late spring tryout, Harbert decided MSCL would fare better in its own 8 p.m. slot on Thursday nights. ("Missing Persons" was axed, as was its mid-season replacement, "The Byrds of Paradise") to catch the attention of young viewers before school resumed, late August was set for the the long-awaited premiere.
Throughout June and July, ABC ran a batch of promos for MSCL, depicting the show as an honest, non-90210 portrayal of the teenage experience. The commercial voice-overs informed listeners that Rolling Stone had named MSCL the best new show of the season. Anticipation was high. ABC hoped for another "thirtysomething"-sized hit on their hands, and the MSCL team was eager to present their baby to the world. All that was left was for the show to premiere.
It did just that, on 25 August, 1994. Critics gave the show generally positive reviews, and even the detractors were praising star Claire Danes for her dead-on portrayal of Everyteen. In an otherwise unremarkable season, reviewers embraced the originality and authenticity MSCL had to offer. Now if only the Nielsen families could do the same...
Showing their faith in MSCL, ABC ordered six more episodes, the first of which aired on 27 October, 1994. The network later ordered four additional episodes, bringing the total to 19 episodes, just 4 under a complete season. Recognizing the series' unique spin, the Viewers for Quality Television added MSCL to its Qualified Support list. Operation Life Support, an organization of fans dedicated to saving MSCL, launched an effort to keep MSCL on the air (read on).
However, the prospects of getting to see Angela reach her junior year are a bit less than low. The show has been, much as people hate to admit it, officially canceled. On 5 December, 1994, ABC delivered the crushing news: after the last of the new episodes aired on 26 January, 1995, MSCL would go on hiatus -- a word often associated with, but not necessarily synonymous for cancellation. Taking it's time slot was "Extreme," a new, action-adventure type show ("Baywatch" in the mountains...), which -- as it turned out -- didn't survive either. During the time that MSCL was on hiatus, there was serious talk among the fans of trying to get the show moved to another network.
People Magazine listed MSCL in their "Best of Tube" list in its year-end issue. Claire was also included in its section on "New Faces." Time, along with other big-name newspapers and magazines, mentioned MSCL in their best of TV section. On 22 December, 1994, Golden Globe nominations were announced, and our own Claire Danes received MSCL's only nod, as Best Actress (Drama). She faced stiff competition from Kathy Baker ("Picket Fences") and Angela Lansbury ("Murder, She Wrote"), and (no) competition from Jane Seymour ("Dr. Quinn, Medicine Woman") and (don't laugh) Heather Locklear ("Melrose Place"). Most of us guessed the winner would be at least twice Claire's in age (or in Angela Lansbury's case, 4 times). We were, of course, wrong. On 21 January, 1995, the night of the awards ceremony, Claire walked off with the award. So, maybe there is justice in the world.
January of 1995 was also a big month for Operation Life Support, the viewer initiative to save MSCL. Touted as the first grassroots campaign launched in cyberspace, stories on OLS showed up in such places as USA Today, The Wall Street Journal, People, and even on "Entertainment Tonight" and CNN. Money raised for viewer contributions was used to purchase full-page ads in the 26 January, 1995 issues of both Daily Variety (p.21) and The Hollywood Reporter (p.5). In this open letter to Harbert, Director Steve Joyner wrote: "Life needs, and deserves, more than a single season to establish its audience."
On 26 January, 1995, the season - and series - finale aired.
That episode saw the show's ratings jump from it's usual ratings around #100 to scoring a solid #54. Which are great numbers, at least to us fans. Why that didn't impress the big girls and boys at ABC is still anyone's guess.
Despite the rave reviews, MSCL's ratings had been, shall we say, less than fantastic, and even though ABC won the winter season's ratings race, TPTB would probably have no qualms about axing their lowest rated series. History has shown us that quantity, not quality, reigns in the corporate world. Harbert stressed during the hiatus that the show was a "strong candidate" for renewal, but ABC's reluctance to give MSCL the full support it deserves was, and still is, frustrating.
Glimmers of hope abounded in April of 1995, both on the television and on the internet. Rumors that Winnie Holzman had started writing new episodes and that ABC had secretly ordered 6 new episodes were circulating. Added to that was a deal, made almost overnight, between ABC and MTV. Yes, the cable network that brought you "Bevis and Butthead" and "The Real World" bought MSCL's cable rights and began airing the episodes each weeknight on 10 April, 1995, and these have been rerun again and again, with much praise, and have completed their two-year contract. (I don't know if they have a new deal yet, I'll check into that).
MSCL has also found it's way to other countries, including Canada, Britain, Spain, Germany, Iceland, Sweden, Norway, Denmark, Finland, Brazil, Guatemala, Australia; Netherlands; Philippines; Israel; Austria; France; Bulgaria; Yugoslavia; and Japan. Please mail me if you know of a country I either forgot or don't know about.
On a real-life note, during this time, fans of the show launched a new campaign to catch the attention of ABC. The Dollar a Viewer (DAV) campaign, headed by Rose Martelli, asked Life fans to pledge a dollar for every MSCL viewer they know. Whale's Tale, a non-profit organization in Pittsburgh that provides counseling and shelter to teenagers, was chosen to be the recipient of fans' donations.
---